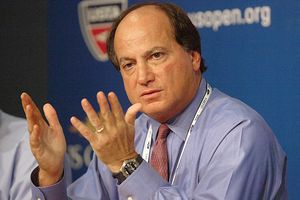 Arlen Kantarian resigned as CEO of professional tennis for the U.S. Tennis Association on Thursday after running the U.S. Open since 2000.
Kantarian will depart at the end of the year.
He is a former NFL and Radio City executive who brought instant replay to Grand Slam tennis, moved the U.S. Open women's final into prime time and launched the U.S. Open Series of summer hard-court tournaments in North America.
This year's U.S. Open broke tournament records for attendance and revenue.
"The best time to move on is when the business is at an all-time high and a solid foundation has been built for the future," Kantarian said in a statement released by the USTA.