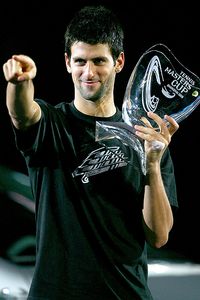 Novak Djokovic is on a high after winning the year ending Masters Cup in Shanghai on Sunday. Novak overwhelmed Russia's Nikolay Davydenko 6-1 7-5 in the final.
A jubilant Djokovic seemed to have the best victory celebration of the year, by throwing two rackets, wristbands and his sweat-soaked shirt — into the cheering crowd at Qi Zhong stadium.
Djokovic didnt stop there, then he headed to the plaayers box, where his coach, family and a former Miss Universe were standing and cheering. A joyous group hug ensued, and they all bounced up and down together, reveling in the Serb's first title in six months. When he walked away from the players box he then realized he had cut his left hand somewhere in the melee.
Congrats Novak on a good win and a solid year. However, you will have to step up your game next year if you are going to compete with Roger Federer and Raphael Nadal.