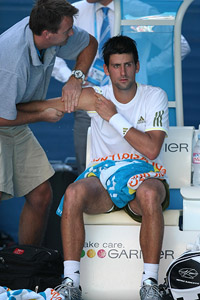 Novak Djokovic abruptly surrendered his Australian Open title on Tuesday when he wilted in the Melbourne heat. But sympathy was in short supply from his fellow players — particularly Roger Federer.
Djokovic, the No. 3 seed, threw in the towel midway through the fourth set of his quarterfinal with Andy Roddick, trailing 6-7 (3), 6-4, 6-2, 2-1. But in pointed comments, Federer, the No. 2 seed, noted that it wasn't the first time Djokovic has withdrawn midway through a match in a Grand Slam. "He's not a guy who's never given up before … it's disappointing," said Federer, who will face Roddick in the semifinals.
"I've only done it once in my career … Andy totally deserved to win that match." "I'm almost in favor of saying, you know what, if you're not fit enough, just get out of here," Federer added. "If Novak were up two sets to love I don't think he would have retired 4-0 down in the fourth. Thanks to Andy that he retired in the end. Andy pushed him to the limits. Hats off to Andy." Djokovic, 21, was the fourth player to quit in mid-match in two days, saying he was cramping and sore, as the on-court temperature at Rod Laver Arena soared above 104 degrees Fahrenheit (40 degrees Celsius).
He had lamented that he didn't get to sleep until 6 a.m. Monday after his previous match against Marcos Baghdatis ended at 2:26 a.m. Monday, costing him practice time. He said he had requested another night match.